10 Ucapan Ulang Tahun Dalam Bahasa Inggis untuk Sahabat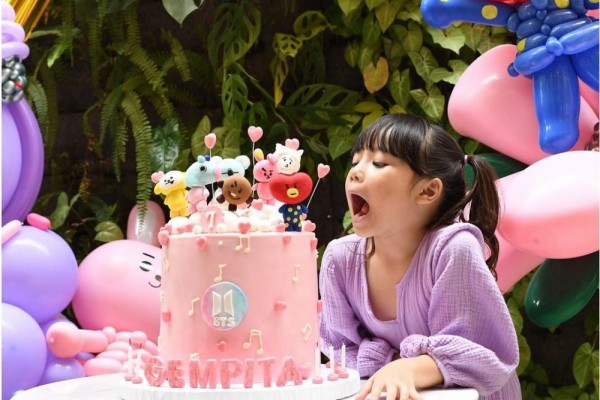 Salah satu momen yang paling berkesan bagi kebanyakan orang adalah momen ulang tahun, tidak jarang orang merayakan ulang tahun dengan membuat acara yan cukup meriah. Di momen ulang tahun juga bisa jadi ajang untuk kumpul dengan keluaga dan orang –orang yang kita cintai.
Pada saat ulang tahun biasanya dia akan berharap supaya bisa jadi orang yang jauh lebih baik lagi dari tahun yang sebelumnya. Untuk merayakan ulang tahun Anda tidak harus merayakannya dengan pesta yang sangat meriah, melaui kata-kata saja Anda bisa membuat orang yang sedang berulang tahun jadi bahagia. Banyak sekali ucapan ulang tahun dalam bahasa inggris yang bisa Anda ucapkan untuk orang yang Anda sayangi, yuk langsung saja simak penjelasannya dibawah ini:
"I am so grateful to have you as my friend. You're such a great friend. Hope your birthday is as special as you are. Happy birthday, my dearest friend!"
"U know, I am the luckiest person in the world because of having a great friend like U. May all of your dreams come true. I wish U all the love and happiness in the world. All the best on your birthday!"
"Have a very amazing birthday! Enjoy all the cakes, hugs, love and happiness today. You deserve it, my friend. All the best for you!"
"All laughs and tears we share make me feel awesome. I am so thankful for our true friendship. Hope your day is always amazing as you are. Happy birthday dear amigo!"
"Well, I tried to find the right words to show you how I feel about our friendship. I only thought one word: awesome. To me, you're very awesome, more special than anyone else in my life. Happy birthday to you! May every moment of your life be as wonderful as our friendship."
"Happy birthday, my BFF! May your day be as beautiful as you. Wishing you a day filled with happiness and a year filled with joy."
"You accept who I am and also help me to become who I should be, a better me. Thank You for being a true friend. May You be blessed with love and success. Happy Birthday, my dear mate! I love U so much."
"Today is your Birthday, so Happy Birthday to you. I Wish every single dreams of yours will come true"
"Be Happy. be Awesome. May peace be upon you. Happy Birthday!"
"Happy birthday for you the nice person in the world. I hope you always happy and all your dream will come true."
Itu dia 10 ucapan ulang tahun dalam bahasa inggis yang bisa Anda ucapkan kepada sahabat Anda. Setelah memberi ucapan selamat ulang tahun Anda juga bisa memberikan kejutan kepada sahabat Anda. Salah satu ide kejutan yang bisa Anda gunakan adalah dengan pura-pura menculik sahabat Anda, ajak sahabat Anda untuk pergi kesuatu tempat. Di tempat tujuan Anda bisa menyiapkan kejutan ulang tahunnya misalnya dengan menghias tempat kejutannya, menyediak kue ulang tahun dan pernak Pernik lainnya. Tapi bisa juga Anda mengajak sahabat Anda untuk pergi ke tempat yang belum pernah Anda kunjugi bersama.